I've been wanting to do this for awhile now. In 2009 at the Pastor's Retreat we focused on memorizing the word. The speaker was a fellow who had memorized several books of the Bible and encouraged his students and others to do the same.
In our church we are slowly memorizing 1John together...but I wanted to do something myself.
This post
at Holy Experience encouraged me to start to do this thing for myself...something more than the nothing that I've been doing. Something between me and Jesus. I'm going to invite my children and husband to come with me on the journey. I hope they do, and if they don't, I'm going anyway.
I'll be attempting to memorize the book of Colossians in 2011. Just 2 verses a week. That sounds achievable don't you think? In her post, Ann has provided a download for all the weeks. Today I spent putting my own little book together. It was beauty in the making...pretty paper, ribbon and the Word...the Word becoming part of me, I look forward to see how it may change me, for surely it will.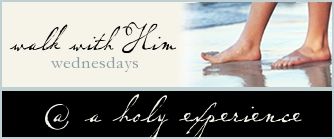 I know it wasn't a Wednesday post, but oh well, I wanted to see if the button worked!